Rescue Buoys on Abalone Patrol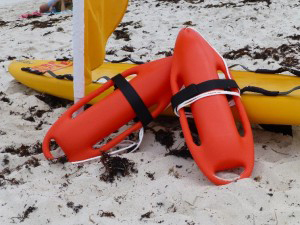 In 2017, Mullaloo SLSC trialled the use of rigid Rescue Buoys on abalone patrols, as an alternative to the soft rescue tube. The Rescue Buoys provide rigid handles that enable distressed patients to hold onto a flotation device that is provided to them. Being a rigid design, it can be thrown a significant distance from either the IRB or land which is important to reduce the potential of injury to rescuers working around a reef in wind and swell conditions. These types of rescue buoys are not being used by other Surf Life Saving Clubs in Western Australia and the effectiveness of the trial will be detailed and provided to Surf Life Saving WA. Our thanks to Peter Rogers from Conaco Phillips Australia, whose donation enabled us to purchase the equipment.
Tagged Shark Detection System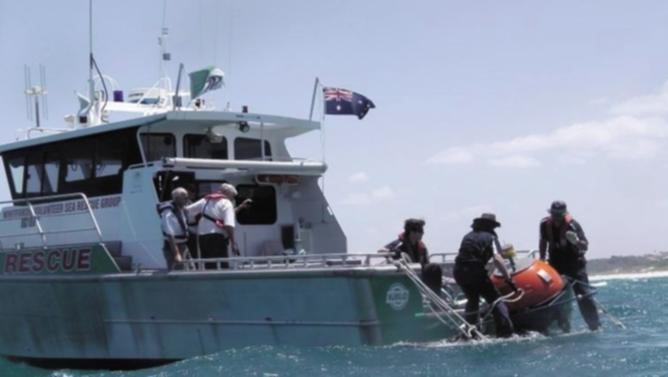 June 2017 –  This project was decommissioned.
Mullaloo Surf Life Saving Club (SLSC) removed the tagged shark detection buoys located in front of the Club. The buoys and public alert system provided over a kilometre of tagged shark detection and automatic alarms along the main beach.
Despite exhaustive attempts to engage commercial sponsors, government from both sides of politics and local government, no financial support has been found to maintain or expand the trial of the current system. The new State government has indicated that it will continue to fund Surf Life Saving Western Australia (SLSWA) to maintain its support of the current shark mitigation initiatives.
The associated memorandum of understanding between Mullaloo SLSC and Curtin University (Centre for Marine Science and Technology) for research into acoustic detection of tagged sharks will now focus on other opportunities to collaborate.
Mullaloo SLSC is obviously disappointed to have to decommission this innovative application of technology that enhanced the awareness and safety of beach goers at Mullaloo. It has been the source of some insightful acoustic detection studies conducted over the last few years. Mullaloo SLSC's research collaboration with Curtin University has been much appreciated.
The Mullaloo SLSC would like to acknowledge and thank all who assisted and sponsors that provided equipment and associated services, including RPS MetOcean Pty Ltd, Whitfords Sea Rescue and Think Wireless Technologies Ltd.
There remain two Department of Fisheries tagged shark detection buoys located approximately 600 meters off the beach at Mullaloo. Any detection from these units goes directly to SLSWA twitter feed, based on satellite communications. There will be no instant siren and red light alert at Mullaloo SLSC attached to this system of tagged shark detection.
Mullaloo SLSC remains committed to providing beach goers with the highest standard of surf life saving service. We recommend swimmers and other ocean users check for shark detection alerts before entering the water and remain vigilant when assessing water conditions.
More background information and further reading